Zenith University College ready for new programmes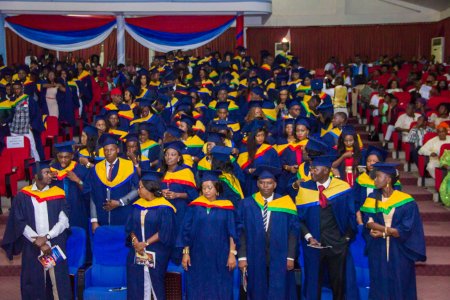 Zenith University College would soon offer a two­year General Diploma
programme in Business Administration and a joint Bachelor of Law Degree Programme with the University of
Cape Coast.
Mr Stephen Takyi­Aseidu, the Rector of the University College, who announced this, said the institution was
working towards introducing Nursing, Computer Science, International Relations and Development, Web
Design, Web Production and Web Development, soon.
He was addressing the first Graduation ceremony of the College, held this year, in Accra, over the weekend.
On the existing Academic Programmes, Mr Takyi­Aseidu said the University College was in the process of
undertaking a comprehensive review of the structures and content of its Bachelor's and Master's
programmes.
"To be relevant as a tertiary educational institution, we believe there is the need for periodic review of our
curricula with the object of redesigning, reshaping, revamping and modernizing our programmes so that our
students will be competitive in the global work place," he said.
Mr Takyi­Asiedu challenged graduands to be good ambassadors of the school wherever they find
themselves.
He said the least the graduands could do for their Alma Mata was to keep the Zenith University College's
flag flying by behaving responsibly and making the most use of their extra­ordinary opportunity.
"In any organisation, there are three categories of people: the few who make things happen, the many who
watch things happen and the overwhelming majority who have no idea what happens.
"I expect you to belong to the first category, that is the few who make things happen," Mr Takyi­Aseidu said

He also urged the graduands to seek excellence wherever they would find themselves either in the lecture
room again or in the world of work.
In all a total of 268 students graduated, out of which 21 candidates made up of 13 males and eight females
were awarded Master of Business Administration degrees.
For the Bachelor of Business Administration programme, a total of 247 candidates, including 129 females
were awarded.
Out of the figure, 13 students, which represented five per cent, obtained First Class with honours; 87
representing 35 per cent had Second Class Upper; while 122 representing 49 per cent, were in the Second
Class Lower Division.
Twenty­one students, representing nine per cent, had Third Class, while four, representing two per cent,
passed.
Mr Ibe Ndukwe, who offered Business and Financial Management, at the first degree level, was adjudged
the Overall Best Student with a Grade Point Average of 3.83.
Professor Josephus Anamuah­Mensah, the Chairman of the Council of Zenith University College, said lifelong
learning was a cardinal orientation in education and, therefore, urged the graduands to continue to learn to
improve their knowledge and skills.
"It is said that information doubles every 5.5 years, technical information doubles every two years, while
electronic information doubles every hour, being a lifelong and digital learner will enable you to keep up to
date with issues in your profession," he said.
Prof Anamuah­Mensah expressed happiness about the success chalked by the School over the years, but
mentioned flooding at some parts of the La Community as a major challenge and concern to the College.
Therefore, he said, a professional engineering solution had been sought to resolve the perennial problem.
Prof Cosmos Cobbold, a Professor at the Faculty of Education, UCC, addressing graduands on behalf of the
Vice Chancellor of the UCC, advised the graduands to make good use of their skills acquired throughout
their lives and embrace any job that would come their way first.
They should not be selective since small beginnings, he said, mattered most in one's evolution in life.
He urged stakeholders to collectively work towards the provision of better maintenance and sustenance of
education.
"Let's put in place mechanisms and procedures that will assure that those who access education meet the
high standards of it," he said.